Asset Management
TerraForm Power's objective is to own high-quality clean renewable energy projects and generate attractive returns for investors. Superior operations and maintenance (O&M), which is usually provided by SunEdison, is crucial to achieving these objectives.
Preventative and corrective maintenance programs operate 24/7 to ensure maximum efficiency of electricity generation. O&M plays a vital role in guaranteeing that all plants and installations continue to run long into the future and deliver secure returns from reliable and proven assets.
Meeting the extremely demanding quality and service criteria required to succeed is supported by access to a global network of highly-specialized and experienced technical staff through SunEdison, who is best-in-class at operating and maintaining many of the world's leading power plants. SunEdison's three Renewable Operations Centers (ROCs), strategically located in Chennai (India), Madrid (Spain) and San Francisco (USA) continuously monitor our entire portfolio of projects around the world, 24/7.
The network of teams in the field ensures that any issues that arise are responded to rapidly and effectively, mitigating the potential for lost production.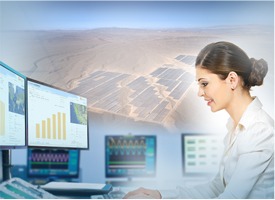 On April 21, 2016, SunEdison, Inc. (NYSE: SUNE) and certain of its domestic and international subsidiaries voluntarily filed for protection under Chapter 11 of the U.S. Bankruptcy Code in the Bankruptcy Court for the Southern District of New York. TerraForm Power, Inc. (Nasdaq: TERP) and its sister company, TerraForm Global, Inc. (Nasdaq: GLBL), are NOT part of the SunEdison bankruptcy filing and have no plans to file for bankruptcy themselves. TerraForm Power and TerraForm Global are publicly listed companies that are separate legal entities and are traded separately on Nasdaq. TerraForm Power expects to continue to operate in the ordinary course. Importantly, TerraForm Power believes that it has sufficient liquidity to operate its business. Click HERE to learn more.